1000mm F-Series Stainless Steel Food Safety Mirror
Product Code: 16195F
Availability: In Stock
NZ$2,045.00

NZ$1,636.00

Ex Tax:

NZ$1,422.61
The 1000mm F-Series Stainless Steel Food Safety Mirror offers the ideal process monitoring solution when hygiene and food safety is crucial. The Stainless Steel bracket allows this convex mirror to be adjusted to any angled to give staff the most optimal line of sight and therefore preventing costly stoppages, jams and bottlenecks. This mirror is made entirely of Stainless Steel, including the bracket and back, and will withstand the harshest environmental conditions and cleaning regimes.
Prices Includes GST and Freight.
VIEWING DISTANCE: 20 metres
(Measure from Viewer to Mirror + Measure from Mirror to Area being viewed. Add together = Approx Viewing Distance)
This is a guide only.
PRODUCT CODE 16195F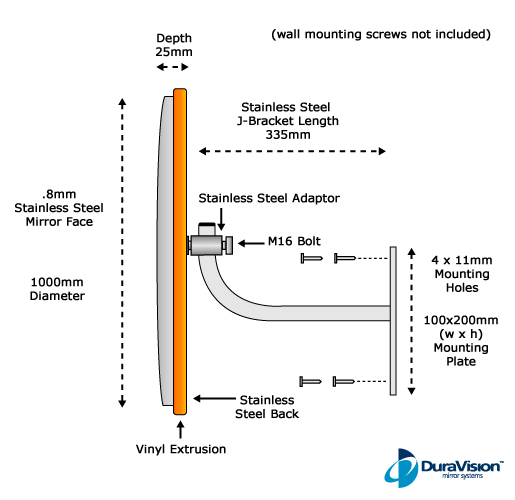 Complete with J-Bracket. (Wall Mounting Screws Not Included)
Installation Guides
Viewing Distance

Up to 65m
(Viewing Distance = from Viewer - to Mirror - to Area being viewed)

Installation

Cleaning