1000mm Outdoor Acrylic Traffic Mirror
Product Code: 18445C
Availability: In Stock
NZ$1,025.00

NZ$820.00

Ex Tax:

NZ$713.04
The 1000mm Outdoor Acrylic Traffic Mirror is durable and designed to withstand tough environmental conditions, such as coastal areas, extreme weather and heavy machinery. The mirror face has a unique curve design to allow a driver to observe high speed traffic much more effectively at a safe distance. This outdoor convex mirror can be installed anywhere a driver's view of the road is impaired by buildings, trees, fences and other obstructions. Ideal for concealed entrances or exits, blind corners on roads and highways and for hard to see intersections. The extra strong galvanised steel clamp bracket is designed for fixing to a 75mm pole (pole not included). To attach the outdoor traffic mirror to a flat surface, a Wall Mounting Adaptor is available to purchase.
(To purchase a Wall Mounting Adaptor, see Wall Mounting Adaptor)
Price Includes GST and Freight.
VIEWING DISTANCE: 60 metres (for traffic use)
(Measure from Viewer to Mirror + Measure from Mirror to Area being viewed. Add together = Approx Viewing Distance)
This is a guide only.
PRODUCT CODE: 18445C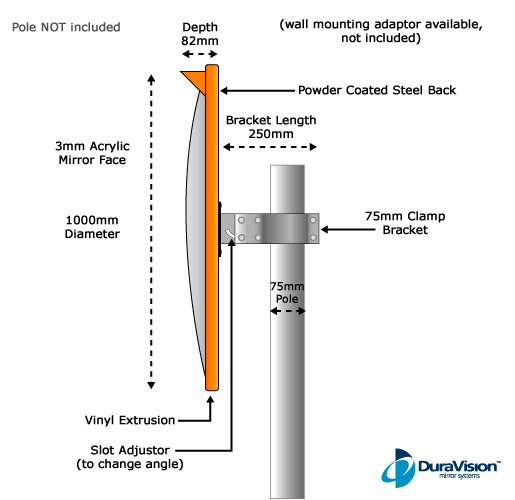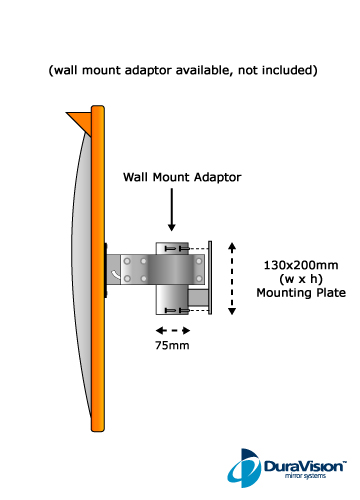 Installation Guides
Viewing Distance

Up to 60m
(Viewing Distance = from Viewer - to Mirror - to Area being viewed)

Installation

Cleaning