1000mm Outdoor Heavy Duty Stainless Steel Mirror
Product Code: 16445S
Availability: In Stock
NZ$1,646.00

NZ$1,316.80

Ex Tax:

NZ$1,145.04
The 1000mm Stainless Steel Outdoor Heavy Duty Convex Mirror works well in situations where vandalism and projectile objects are a strong possibility in industrial or traffic safety situations. The stainless steel mirror face can handle the hard knocks in a tough industrial environment and will withstand vandal prone areas where graffiti can be easily removed. The 304 grade, 18 gauge highly polished stainless steel mirror face is specifically designed to allow drivers to see around blind corners and hard to see entranceways and driveways without distortion of distance. The easy to install galvanised steel wall mounting bracket is fully adjustable and allows the mirror to be angled at the most effective position.
*60mm and 75mm U-Bolts for pole mounting are available to purchase separately. Go to U-Bolt Pole Mounting Packs.
Price Includes GST and Freight.
VIEWING DISTANCE: 65 metres (for traffic use)
(Measure from Viewer to Mirror + Measure from Mirror to Area being viewed. Add together = Approx Viewing Distance)
This is a guide only.
PRODUCT CODE: 16445S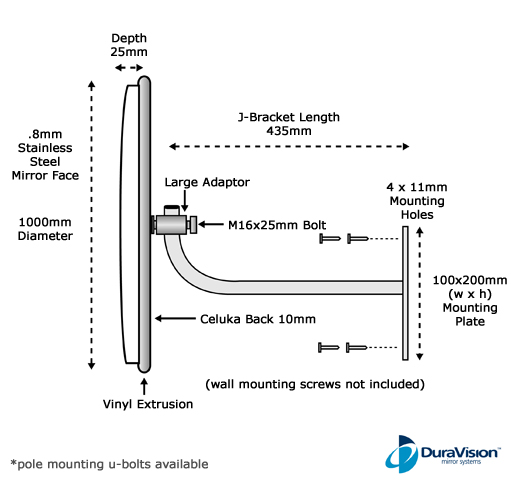 VIDEO: How to install a Convex Mirror to a Pole using U-Bolts.
VIDEO: Why choose Unbreakable Stainless Steel Mirrors?
Installation Guides
Viewing Distance

Up to 65m
(Viewing Distance = from Viewer - to Mirror - to Area being viewed)

Installation

Cleaning