450mm Indoor Standard Convex Mirror
Product Code: 18038J
Availability: In Stock
NZ$208.00

Ex Tax:

NZ$180.87
This 450mm Indoor Adjustable Convex Mirror adjusted to any angle to allow an optimal line of sight. As a retail security convex mirror, it can be positioned wherever goods are concealed from view by shelves and partitions, around corners, aisles and corridors. The ACM (Aluminum Composite Material) back makes it an effective safety mirror for light industrial safety situations such as factories, hospitals, warehouses or any other situation where blind spots may cause a problem.
Prices Includes GST and Freight.
VIEWING DISTANCE: 7 metres (for indoor use)
(Measure from Viewer to Mirror + Measure from Mirror to Area being viewed. Add together = Approx Viewing Distance)
This is a guide only.
PRODUCT CODE: 18038J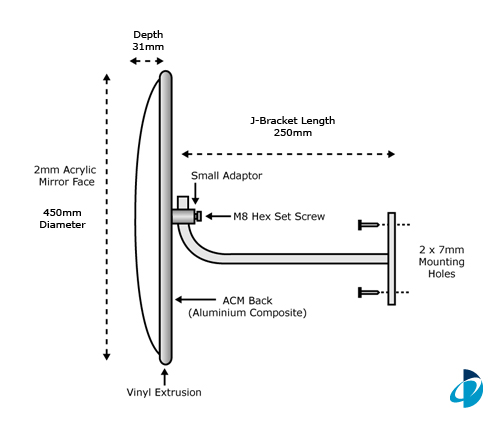 Complete with adjustable J-Bracket (Wall Mounting Screws Not Included)
Installation Guides
Viewing Distance

Up to 7m
(Viewing Distance = from Viewer - to Mirror - to Area being viewed)

Installation

Cleaning