600mm Acrylic Livestock Observation Mirror
Product Code: 18062S
Availability: In Stock
NZ$348.00

Ex Tax:

NZ$302.61
The 600mm Acrylic Livestock Observation Mirror can be used for heat detection mounted high above livestock to give a clear view of the backbone and tail when using tail paint or heat mount detectors and has the advantage of not interfering with the animals. This acrylic model is weather proof and designed for general outdoor areas which are not exposed to harsh weather conditions, such as high winds. The heavy duty adjustable bracket is built to last and the specialized curve design is formed from optical grade 100% virgin acrylic and vacuum metalized from 99% pure Aluminium for a superior clear reflection with no distortion. This robust mirror is easy to install and the fully adjustable bracket allows the mirror to be angled at the most effective position for optimal viewing.
Manufactured in New Zealand, For New Zealand Conditions.
*60mm and 75mm U-Bolts for pole mounting are available to purchase separately. Go to U-Bolt Pole Mounting Packs.
Prices Includes GST and Freight.
VIEWING DISTANCE: 10 metres (heat detection use)
(Measure from Viewer to Mirror + Measure from Mirror to Area being viewed. Add together = Approx Viewing Distance)
This is a guide only.
PRODUCT CODE: 18062S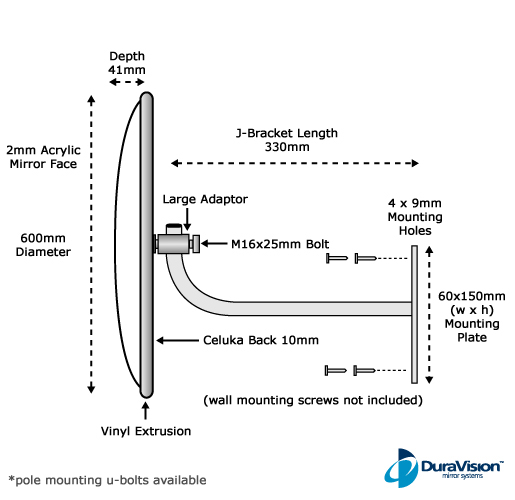 VIDEO: How to install a Convex Mirror to a Pole using U-Bolts.
Installation Guides
Viewing Distance

Up to 10m
(Viewing Distance = from Viewer - to Mirror - to Area being viewed)

Installation

Cleaning