600mm Indoor Deluxe Half Dome Mirror
Product Code: 18535HE
Availability: In Stock
NZ$283.00

Ex Tax:

NZ$246.09
The 600mm DeLuxe Half Dome Mirror is designed for viewing both left and right at T-intersections in busy corridors and passageways to help avoid collisions. The lightweight celuka vinyl back and lid enclose the cavity so that no dust, rubbish or other objects can be left inside and will not require any constant cleaning out. Ideal in public buildings such as hospitals, libraries, schools, stations, airports etc. This new innovation is the most effective way to improve safety in public buildings.
Prices Includes GST and Freight.
VIEWING DISTANCE: 6 metres
(Measure from Viewer to Mirror + Measure from Mirror to Area being viewed. Add together = Approx Viewing Distance)
This is a guide only.
PRODUCT CODE: 18535HE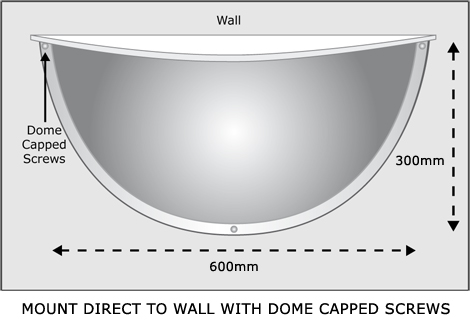 Installation Guides
Viewing Distance

Up to 6m
(Viewing Distance = from Viewer - to Mirror - to Area being viewed)

Installation

Cleaning