760mm Garage Parking and Workshop Mirror
Product Code: 18072J
Availability: In Stock
NZ$420.00

Ex Tax:

NZ$365.22
This 760mm Workshop Parking Mirror is designed to improve visibility and safety for vehicle movements in garages and assist with aligning vehicles for car lifts and hoists. This Indoor Adjustable Convex Mirror can be adjusted to any angle to allow an optimal line of sight to check brake lights and head lights. A very versatile convex mirror which can be positioned wherever a blind spot exists to allow safer entry and exit from a workshop as well as improving traffic flow.
Prices Includes GST and Freight.
VIEWING DISTANCE: 14 metres (when viewing pedestrians) 46 metres (when viewing moving vehicles)
(Measure from Viewer to Mirror + Measure from Mirror to Area being viewed. Add together = Approx Viewing Distance)
This is a guide only.
PRODUCT CODE: 18072J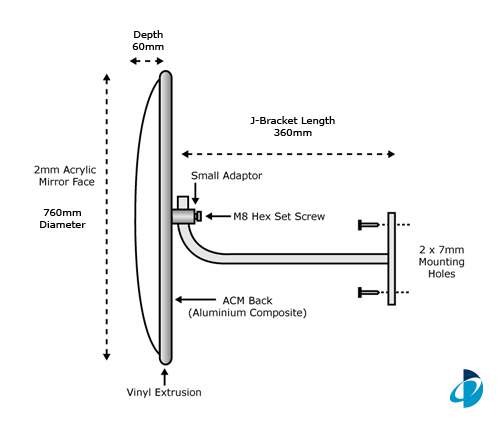 Complete with adjustable J-Bracket (Wall Mounting Screws Not Included)
Installation Guides
Viewing Distance

Up to 14m
(Viewing Distance = from Viewer - to Mirror - to Area being viewed)

Installation

Cleaning