900x450mm Outdoor Two-Way Half Dome Mirror
Product Code: 18553HO
Availability: In Stock
NZ$544.00

Ex Tax:

NZ$473.04
The 900x450mm outdoor two-way half dome mirror is an effective way to improve two-way visibility especially for driveways and T-Intersections when a driver needs to see both left and right before proceeding. The vinyl back and lid is sealed to enclose the dome cavity and protects the mirror from weather. Ideal for driveways with a limited view, busy forklift loading areas, factories, warehouses and industrial buildings. Complete with adjustable outdoor J-Bracket, this innovation in driveway safety can significantly help avoid collisions. (Due to the deep curve of this mirror, distance and speed is harder to estimate, therefore we do not recommend this model for moderate or fast moving road traffic).
*60mm and 75mm U-Bolts for pole mounting are available to purchase separately. Go to U-Bolt Pole Mounting Packs.
Price Includes GST and Freight.
VIEWING DISTANCE: 12 metres (for slow traffic use)
(Measure from Viewer to Mirror + Measure from Mirror to Area being viewed. Add together = Approx Viewing Distance)
This is a guide only.
Product Code: 18553HO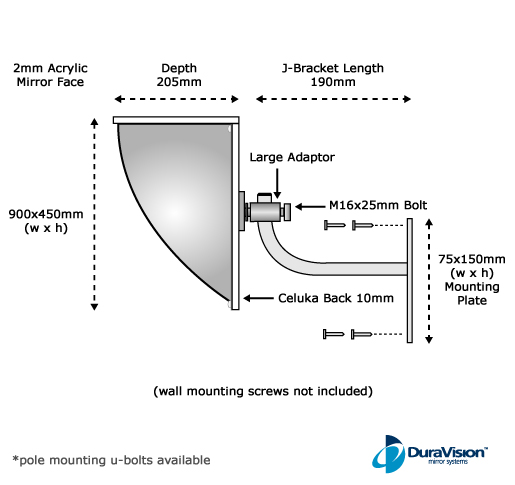 VIDEO: How to install a Convex Mirror to a Pole using U-Bolts.
Installation Guides
Viewing Distance

Up to 12m
(Viewing Distance = from Viewer - to Mirror - to Area being viewed)

Installation